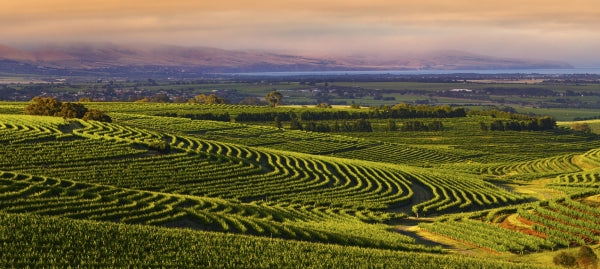 5 REASONS MCLAREN VALE PRODUCES THE BEST GRENACHE IN AUSTRALIA
"The Mediterranean of the South."
McLaren Vale is blessed with ancient soils (19 types have been mapped), a climate just like the Mediterranean, hills, vines and the beaches of Gulf St Vincent. The perfect breeding grounds for Australia's most stylish Grenache.
HERE ARE 5 REASONS MCLAREN VALE PRODUCES THE BEST GRENACHE IN AUSTRALIA
1. EXPERT TASTERS AGREE
McLaren Vale Grenache tastes the best.
A who's who of trusted wine voices have supported this notion: James Halliday, Drinks Business Magazine, Punchdrink and The Buyer.
Wine Wankers even assert that McLaren Vale Grenache tastes better than it's more famous household staple – Shiraz.
2. GRENACHE IS GREAT VALUE 
By spending your wine allowance on Grenache, you afford yourself a better yield of fruit flavour per dollar, according to David Williams, Wine Writer at The Guardian.
By large, most Grenache wines are priced well below their complexity, drinkability and enjoyment factor.
3. IT'S CLIMATE PROOF
Grenache is a hot weather grape, ready made to cope with and indeed thrive within a changed climate. It's also very tough – as the Guardian recently reported.
You don't get to the age of 80+ without being gnarled, weather-worn, and wisened.
Such is the Grenache we use from Blewitt Springs in McLaren Vale.
4. CHAMELEON 
Does a grape by any other name taste so sweet? Grenache also goes by Garnacha, Cannonau and Garnatxa.
It also expresses its' varietal nature in a myriad of ways, depending on where it was grown and the hands of the viticulturist and winemaker. Some express succulent, spicy easy-drinking characters, others lush  and warming, still more are herbaceous with undertones of cola and leather like our Aphelion 2016 Grenache.
Giles Cooke is so certain that Grenache is Australia's signature grape that he is making his own wines here – in McLaren Vale.
4. IT'S UNDERRATED
Peter Dean nails it:
"Grenache delivers what Pinot promises."
Australia's classic variety is Shiraz, which often steals the limelight and the consumer's dollars.
Max Allen asserts:
"I would like to suggest that Australia's most famous red wine grape, shiraz, might not in fact be the best variety for many of our most famous warmer-climate wine regions such as the Barossa Valley and McLaren Vale. I would like to suggest that if you want a grape variety that most faithfully expresses terroir – that captures the unique combination of country, climate and culture in a glass – then in many cases, in many places, grenache might be a better option."
Grenache may be underrated because of past styles of production in Australia, too.
Some winemakers pick their Grenache too late and ripe. This results in jam-like, sweet and high alcohol wines. Still others blend this noble variety with much bolder shiraz and mataro.
Still, with Grenache's potential being explored by winemakers, a ready audience is being found in wine bars / restaurants particularly on Australia's east coast – with consumers coming on board too!
5. TWO AND TWO
Time to marry the two. Premium, clean, green wine region McLaren Vale, and warm climate, terroir expressing, premium Grenache.
McLaren Vale is Australia's most exciting wine region according to Wine Wankers
Peter Dean lauds McLaren Vale Grenache in particular:
"McClaren (sic) Vale's Grenache has depth and structure, accentuated by the winemakers' inspiration from Burgundian viticulture – cold soaks, whole bunch pressing, gentle extraction, post ferment skin contact, sensitive oak regimes and prodigious use of the selection table."
Hand in hand – McLaren Vale and super quality Grenache. A match made in heaven on earth.
Why We Love Grenache
McLaren Vale Grenache has the ability to really showcase the land it is from.
Blewitt Springs is often described as producing Grenache of berry purity, and with a bit of winemaking magic it can be as savoury, food friendly and complex as any anything else we've tasted.
From the sun of the year, the weather of the vintage is also showcased. Medium bodied and so drinkable, but also complex enough to sit, sip and ponder.
So versatile with food with it's aromatics and structure.
We love it. We cannot get enough of it in our glass and adored by our noses.
Here at Aphelion Wine Co. HQ we will continue to make delicious Grenache, perfect with food and life's best moments.
See all the articles quoted in this blog on our Pinterest Board.
DO TELL US, WHAT DO YOU THINK OF GRENACHE AND IT'S PLACE IN AUSTRALIA, PARTICULARLY MCLAREN VALE? COMMENT BELOW!